There is one thing for sure here in Doha, and that is you are never short for choice of where to go for a Friday brunch.
Published on
April, 23, 2016
There is one thing for sure here in Doha, and that is you are never short for choice of where to go for a Friday brunch.
So if it all seems a bit daunting and you want to make the best choice for your family or group of friends, then the Friday Signature Brunch at Marsa Malaz Kempinski is EXACTLY where you should go.
Friday brunch at the Marsa Malaz Kempinski hotel takes place in the Sawa – meaning together in Arabic, restaurant, where you can relax and enjoy this family friendly brunch – together.
Walking into Sawa, you are tunefully greeted by a live band who play an eclectic mix of tunes that perfectly complements the ambience of the venue – upbeat and lively.
Welcomed promptly by friendly staff, seated very swiftly and waited on impeccably, your senses will be awakened as you walk past the array of fresh sushi, Middle Eastern dishes and the enticing smells of the chef's recommendation of prime meat cuts with all the trimmings!


Choose from having a bubbly brunch for QR 425 or juices and soft drinks for QR 330, and while it may be tempting to kick of your heels after a long week at work and tap your feet along to the band, the displays of culinary delights soon have you up and navigating around the room.
So make a game plan, and prepare yourself (and your stomach) for a gastronomy feast!


Friday Signature Brunch at Marsa Malaz Kempinski, is like a globetrotters guide to food, with several selections spanning varieties of cuisines from around the world. Flying the foodie flag are cuisines from Spain, Japan, England, Italy and of course local favorites, amongst many others.


Don't be fooled to think that the food stations stop with what can been seen inside the main restaurant, cause tucked away outside with breath taking views of the beach, is many other food stations, including the gigantic and very popular Paella pans, which give diners a taster of what is on offer at El Faro restaurant.


And so to 'The Finale' - hope as previously advised, that your game plan allowed your stomach to reach this stage, as you surely don't want to miss out on the selection of desserts.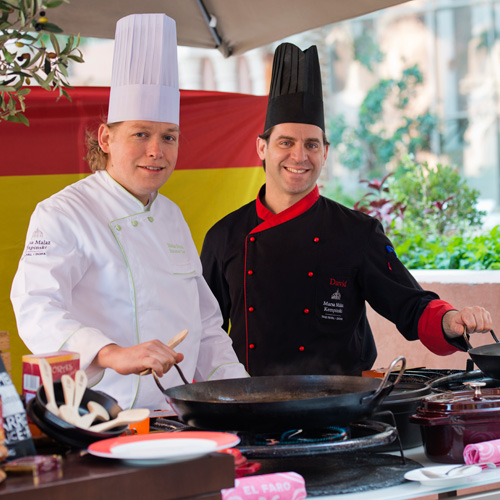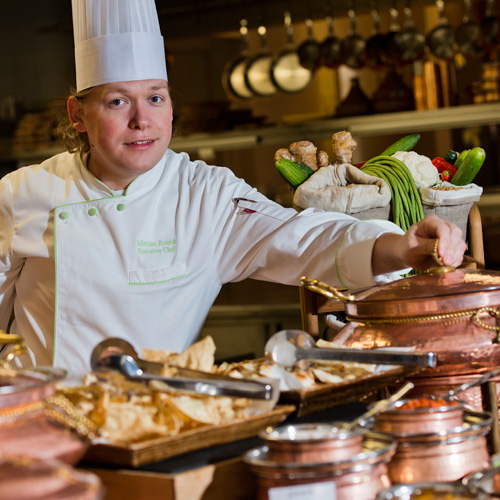 There is something for everyone, spanning from fresh fruits, to mousse's and miniature portions of cheesecake, as well as traditional Arabic desserts; also worth mentioning is that Friday Signature Brunch offers the best and the biggest cheese board in Doha. The chocolate fountains on offer are met by very excited children and adults alike – no one ever outgrows free-flowing chocolate, right?!


Fridays 12.30pm-4.00pm. For more information, contact +974 4035 5011